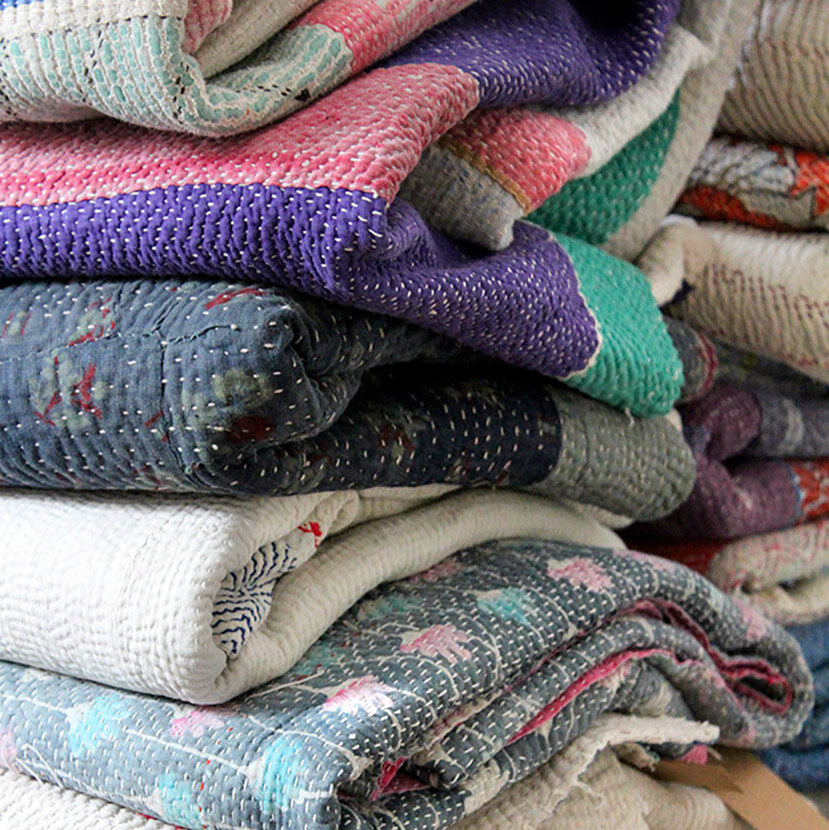 Kantha
24 November 2019
Kantha stitch is an incredibly old technique that originated in Bangladesh and West Bengal. "Kontha" is a Sanskrit word meaning 'rags,' which were believed to keep people safe from harm. Rags were hung up at shrines or tied to trees to cast away the evil eye. This is why women made blankets from 'rags' for their families and loved ones.
A kantha stitch blanket is a thing to be treasured. They are made from layer upon layer of various fabrics and printed cottons which have softened and become worn over time, and the colours slightly faded from washing. The layers of fabric are patiently stitched together, ending up as a glorious kaleidoscope of pattern and embroidery.
Traditionally kantha blankets are made from saris, dhotis, lungis and other garments that are no longer wearable. Colourful threads from the sari borders are carefully removed and saved. A neat running stitch covers both sides of the entire blanket to fasten the patchwork of layers together. Sometimes a straight stitch is embroidered that creates a crinkles, seersucker-like texture, and sometimes the stitch forms an abstract swirling or geometric patterns. Once the layers are in place the real handiwork begins. The original threads recovered from the saris are used to embroider intricate designs. It is very skilled work and the women stitch freehand without tracing the design. If the salvaged garments have holes in them, they are simply repaired with pretty patches, usually in contrasting colours or patterns. This sewing is done recreationally and it can take months, sometimes years, to finish a blanket.
We always have a collection of quality kantha blankets available in our Camden store, and now we have some available online.