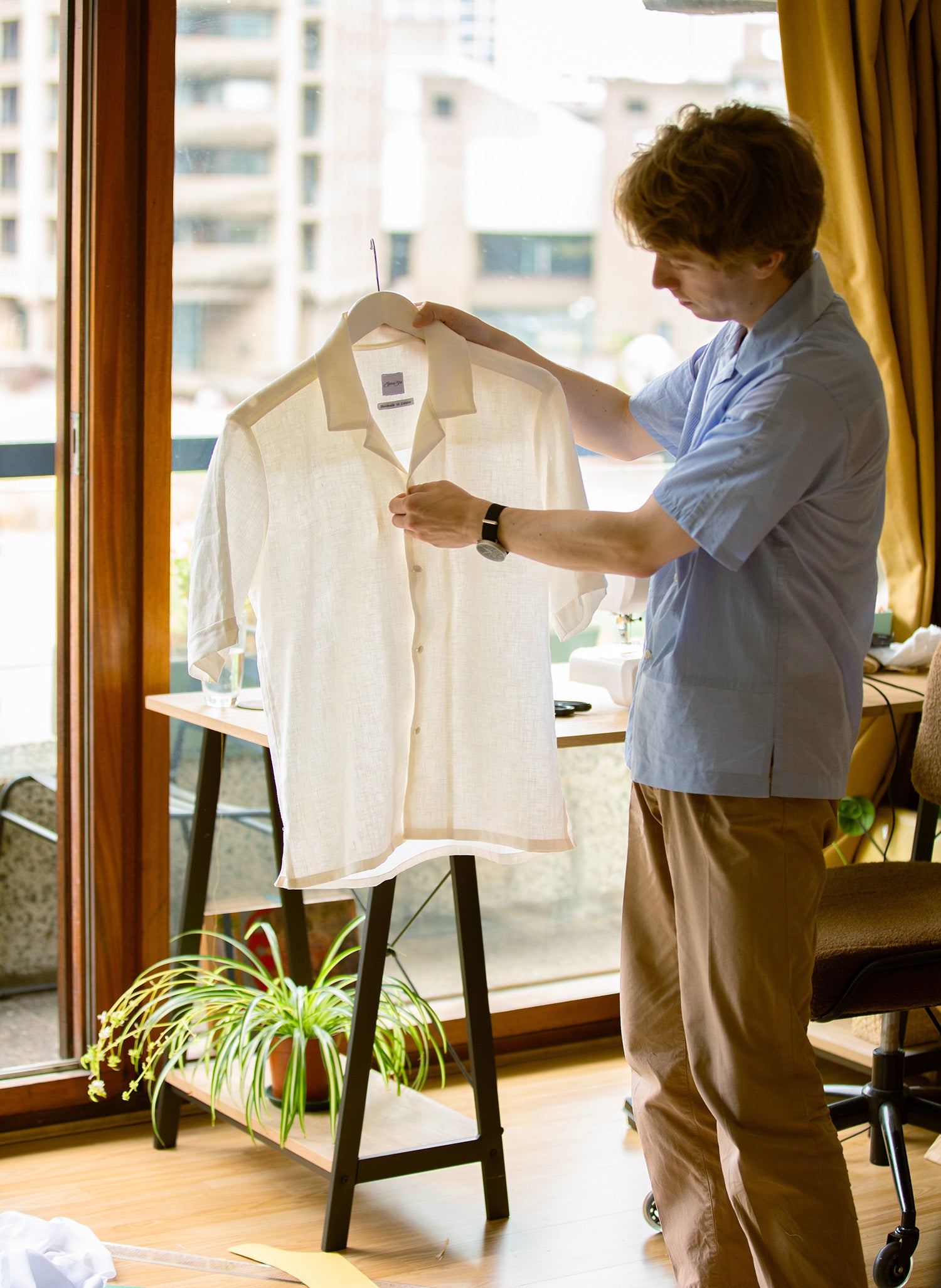 Epoca Blu
31 October 2023
Epoca Blu is a London based brand, established by shirt designer and maker Tom Buckden. We first met Tom as a customer in our Camden shop, before quickly becoming a customer to him. A well-made shirt is a joy to wear, and it's Tom's appreciation of detail that give his shirts such a distinct charm.
Epoca Blu offers bespoke tailoring that is casual in nature, but focuses on classic styles made with quality fabrics. Thoughtful touches such as using a beautiful selvedge edge in the yolk, or as a pocket detail, help elevate his shirts and celebrate the very character of the fabrics used. Tom even offers a fabric finding service, in order to deliver a truly personal, custom-made garment.
We recently contacted Tom to find out more about his background, and his making process. 
Can you tell us about your background? How did you start your sewing journey?
I taught myself! It stems from not being very academic I think. But I've always wanted to make clothes since I started working in clothes shops. You're surrounded by inspiration in environments like that. In 2019 I borrowed a sewing machine off of a friend and with a few initial pointers I began from there. I started by taking apart tote bags with a stitch ripper and just recreating them from the flat pattern - eventually moving on to bigger and more complicated projects. All in all it was a super rewarding process learning this way, albeit a bit difficult at times.
What makes a bespoke shirt so special?
The special feeling comes from knowing you have something truly unique. Like finding something amazing from a vintage store. It becomes only yours and if you've had part in choosing the fabric and the details too, that creates an even stronger bond.
You spend a lot of time choosing suitable fabrics, what do you look for when selecting the right cloth?

I love fabric that has a story to it most of all. Where did it come from? How was it woven? Are there subtle idiosyncrasies that make it even more unique? I love hand-loomed fabrics for this very reason - this way, the shirt has been made from human hands from the very beginning. How cool is that?
Making a shirt is a lot of steps and can be quite laborious. What's your favourite part of the process?
My favorite part is when it starts to become something wearable. The process is always so smooth up until the point where I've sewn buttons / buttonholes and I can try it on. Then I just get distracted because I'm having so much fun seeing what it finally looks like. You didn't ask but my least favorite part is trimming the threads at the end.
Do you have any top tips for making a good shirt?
I would say to take your time and enjoy the process - that's what sewing is all about. If you get frustrated; take breaks, don't be too hard on yourself if you make a mistake. Both you and your finished shirt will thank you.
What are your future plans for Epoca Blu?
Shirts are my favourite thing to make but I want to be able to offer a Jacket Style, Trousers, etc. That's the long term plan; to have a full collection available to order. Until then I'm enjoying having fun with things and learning along the way. I'm thinking about offering a monthly release of read-to-wear garments on top of the bespoke orders too. It'll work as an outlet for all of the creative ideas I have and for the people that are just open to my designs.
Check out Tom's Instagram
@epoca_blu
to view his past commissions and the styles available. Thank you Tom. Photo credits to 
Galih Richardson and Tom.