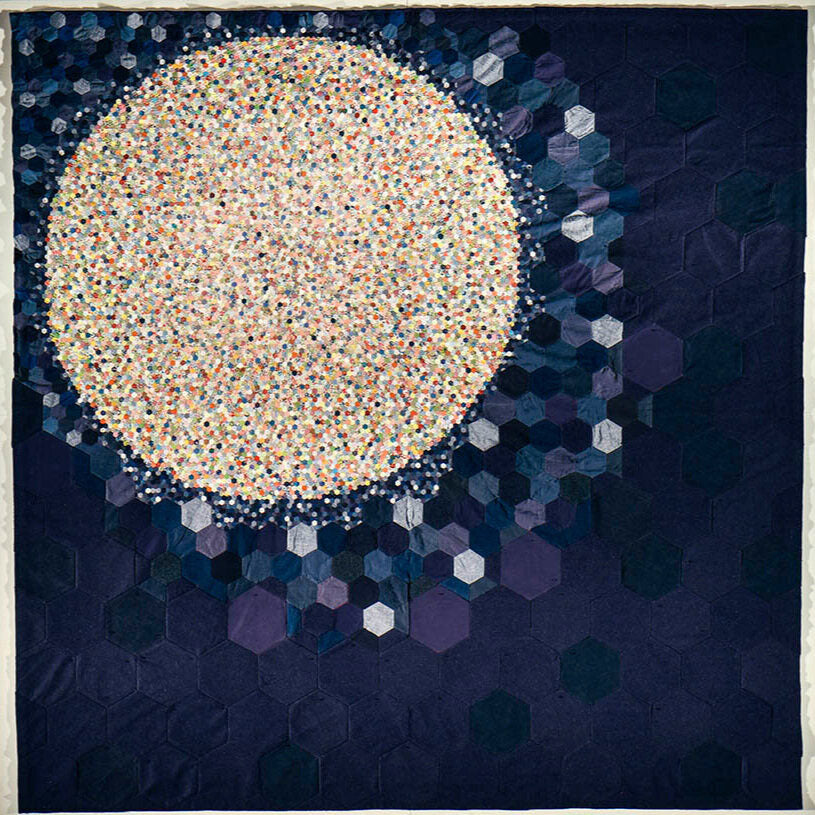 'Rising Circle,' Linda Begbie
09 March 2020
One of the biggest pleasures working in a fabric shop is the opportunity to meet our customers and to hear about the various projects they are working on. It doesn't take long to realise that everyone has their own unique relationship with fabric. Whether our customers are shopping for function, comfort or luxury they may be attracted by something new and exotic or by something familiar and nostalgic. Every so often a customer will have a project or a story that really inspires us. One of our regular online customer Linda visited the shop recently and we got a chance insight into what she has been working on.
Searching out fabrics for a patchwork project, Linda produced a small metal box with the most intricate hexagonal patchwork. The pieces are no bigger than a 20p coin and are meticulously formed and hand stitched together. Carrying these small pieces of the patchwork around means she can stitch on the go. The story behind her love of fabric spans Linda's heritage and career as a musician. We wanted to share this story with you so we asked her some questions.
How did you get into patchwork?
My mother had always sewn. She made our clothes and toys when we were little, and most of our home furnishings. In later life she made quilts. Tragically she died of cancer when I was pregnant with my first daughter, and as my own children grew up my relationship with cloth - washing, airing, cutting, piecing, stitching, wrapping, warming, wearing - became a way for me to process her absence.

Patchwork is the thing that keeps calling me back. Whether Japanese Boro, Indian Kantha, Korean Pojagi, English Paper-Piecing, Euro-American quilting.... I find profound intelligence in this slow, ancient and universal practice, evolved through years of resourcefulness and aversion to waste. Plenty of artists - Louise Bourgeois for example - have recognised the healing power of binding fragments together with hand stitching. This repetitive, meditative action gives me a sense of connection and renewal.

Where do you find inspiration for your pieces. Do they tell a story?
I usually find that if I set out to make something that's too fixed in my mind, then it goes wrong. Instead I try to listen. Cloth has its own music and its own language. In 2018 I finished a large scale work called Rising Circle, 3.5m x 3.5m, entirely hand pieced and hand sewn. It started simply with a cluster of 'cells' at the centre of the circle. They came from a closed-down haberdashery store where a grieving husband was sorting out his late wife's lifetime of sewing paraphernalia. He said I could take anything that took my fancy and amongst the clutter I found a bag of Liberty scraps. I had been given a piece of worn old quilt from my aunt - tiny hexagons of silk and wool clothing, created frugally by Scottish ancestors who were too poor to have the luxury of throwing things away - and so I started to use these Liberty scraps to repeat this tiny hexagonal pattern. I didn't know where I was going with it, but at some point while making the circle I was aware this was more than just a domestic craft. I connected with the sculptor David Nash during this period and he helped me a lot. I made the paper template for this large work in his drawing store in North Wales. Most of my ideas start through faint whispers or dreams, often connected to the body, and I try to follow their thread. Some ideas turn in to works and others get shelved.
.  
Do you always work with very small pieces?
I work with small pieces because I'm trying to express something energetic. I'm a trained musician and working with small pieces creates the kind of 'vibration' I'm used to sensing, and which I associate with emotional expression. Like a wood surface that has been marked by tools or the elements, I am most drawn to cloth surfaces that have texture. Small pieces create that effect - something you feel or sense intuitively, rather than 'see'.

What do you do with your patchworks? Are they blankets and wall hangings?
It's still very early days for my patchworks. Rising Circle was exhibited in an opera theatre and filled the huge space naturally, but it needs a big wall as it's (deliberately) too big for any bed. But I like the idea that my work could exist with equal value in a gallery, hung outside in the sun and wind, or used to wrap around someone and keep them warm. Cloth has always had a place in folk art as well as fine art, and that is something I love about it. I'm currently working on a big patchwork wrap to be worn in deep winter - after a fixation with nests and cocoons - and it is as much a piece of my art as any other.
. 
What do you look for when choosing fabrics? Does the story of the fabric feed in to your work?
I said earlier that cloth has its own music. It might sound crazy, but that's how I feel it. Certain fabrics wink at you, pull you in. Yes, I think the story of the fabric is very important. Lots of my fabrics are found or inherited, but I do also buy cloth to work with. What I love about Cloth House is that the materials are so obviously sensitively chosen. That's important to me. Anyone who works with cloth knows that they are just one part of a process: the plant or animal produces the fibre, the human gathers, spins and weaves the fibre, dyes it by mixing it with plants and minerals, creates a new material.... by the time I come along to work with the cloth, so much process has already happened and so those early stages are crucial. It matters to me that there's humanity there. If you ask Jay or Niki about any of their fabrics, they know not only about the provenance of the cloth but the production techniques behind it, the dyes, the artisans. They're passionate about the material but above all they have an artistic sensibility of their own and that, to me, makes them a very special supplier.
Thank you to Linda for taking the time to answer our questions. For enquiries you can contact linda by email at linda.begbie@gmail.com or follow her on Instagram @linda.begbie