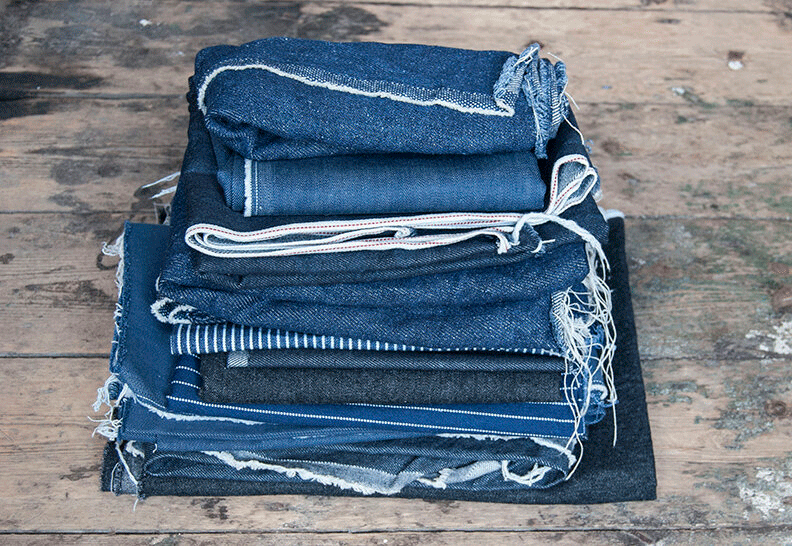 All About Denim
26 March 2019
Have you seen the latest issue of the Selvedge magazine? Our article focuses on Denim - from it's history and the different types, to why it's so popular today. We have a wide selection of denims in-store and online - from raw denims to washed denims, handwoven khadi denim and Japanese selvedge denim.
Denim is a hardwearing cotton fabric with a distinct twill weave. It became popular among miners and labourers in the late 1800's because it was durable and comfortable to wear and has been a popular workwear fabric ever since. Denim is woven with a blue warp and a white weft so the fabric has a blue front and white back. This is how denims get their characteristic faded look.
There are many different types of denim. Washed Denim is the most common type; it is washed after dyeing to soften and shrink the fabric, and is artificially faded to make garments look like they've been worn. Raw Denim is not washed after dyeing and only softens and fades once worn. Selvedge Denims are woven on small shuttle looms, so the fabric is narrow and has a finished edge called a 'selvedge' that is incorporated into the production of some jeans and is considered a sign of quality. Handwoven denims from India also have a finished selvedge edge as they are woven on narrow handlooms. They are softer than most denims and feature occasional slubs.
Denim is a timeless fabric and, because it's so hardwearing, denim garments are often treasured for years. We think denim looks better with age as garments becomes worn, faded and patched. It's a versatile fabric that can be made into jeans, jackets, dresses, shirts and bags. When sewing denim the seams can be bulky so you may need a powerful sewing machine, a strong denim needle and strong thread.