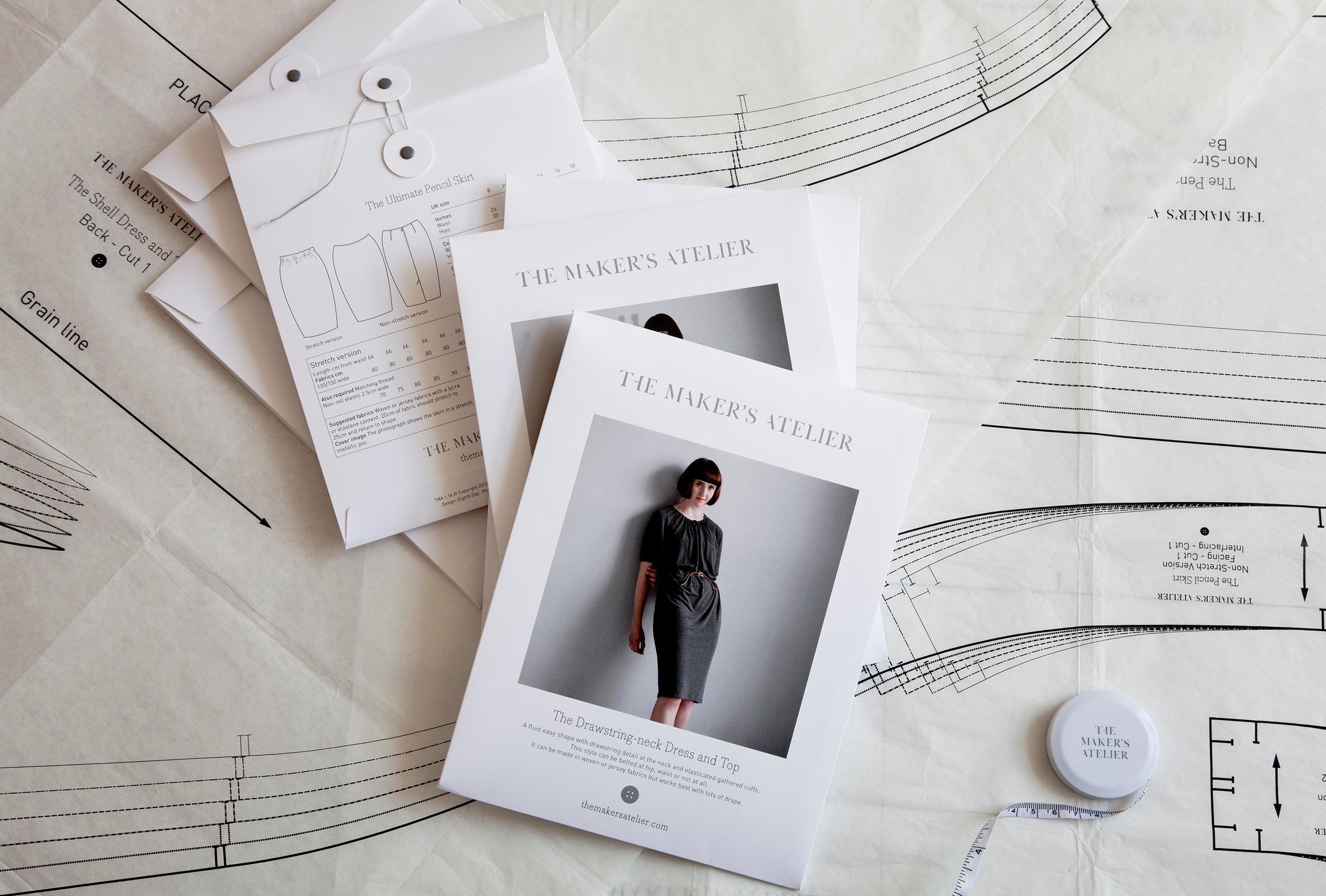 The Maker's Atelier
04 October 2022
The Maker's Atelier is a pattern brand founded by designer Frances Tobin. Born from a frustration of not finding clothes or patterns that reflected her style, Frances saw a gap in the market for quality garment patterns that focused on classic shapes and clean lines.
Frances has taken timeless classic such as the wrap dress, relaxed shirt, wide legged trouser, ultimate pencil skirt and pea coat, and created easy to use paper and digital patterns. Each pattern offers many adaptations, and further variations are available via her blog, which means her patterns are incredibly versatile. The Maker's Atelier now offers a wide range of patterns, all designed with the objective that the simplest shapes, in quality fabrics make the most stylish clothes.
We asked Frances some questions about how she chooses her shapes and fabrics.
Where do you start when drafting a pattern, how do you get inspired? 
I was a designer in the fashion industry for over 20 years and fashion still preoccupies me; how people dress and why? So my inspiration comes from the seasonal collections of designers and brands I admire from Prada to COS. At the same time, I am aware of the reality and practicalities of everyday life and so I try to develop wearable contemporary styles that I hope will compliment a modern woman's wardrobe.
The patterns evolve from existing styles in the pattern range or I drape and cut on my mannequin. Although I learnt to draft a pattern as part of my design education I found that mathematical approach on paper did not relate to the clothes I was trying to create or the fabrics I was working with. So I drape and toile in cheap fabric of a similar construction to the end garment. Once I am happy with the style I then sample in the intended fabric, still making adjustments as I go.     
WHAT DO YOU LOOK FOR WHEN CHOOSING YOUR FABRICS?
It's all about the handle; how a fabric feels and drapes and that applies whether it is a slinky fabric or a crisp fabric. Touching a fabric is the only way to really know if it's for you. Of course I'm drawn to colours or designs that are my style but if the fabric doesn't feel right I can't buy it. I always order samples when I buy online, because even with years of experience of fabric construction and fibre content, I cannot predict the actual handle of a cloth.
I'm attracted to both natural and synthetic fabrics. There are arguments both for and against the production process of either. For me the main criteria are to choose a fabric I love and want to wear for a long time. I have a stretch pencil skirt in I made in fabric bought from Cloth House over 20 years ago. The beautiful stretch jacquard is from manmade fibres; I don't think natural fibres would have lasted as well.
Knowing what you intend to make before fabric shopping is both a help and a hindrance. If you are too prescriptive, it's possible to miss a beautiful fabric that you'll regret not having in the future. At the same time knowing exactly what you want can be disheartening when you can't find it. That's why anyone who sews a lot will have an enormous fabric stash!
Which patterns would you recommend for beginners?
There are a couple of tops that are suitable for beginners: The Big Easy Top designed for jersey fabrics including boiled wools and fleece constructions and The Maker's Top, designed for woven fabrics, it works especially well in the Handloom Neek Deep Indigo. 
Also The Seam Detail Dress was designed for beginners as there are no buttons or zips to worry about. This style works in woven fabrics from lightweight denims to corduroys.
Have you got any new ideas or plans in the pipeline you can tell us about?
I'm always working on new ideas but sometimes it takes a while to refine and test them before they are ready to be launched as a new pattern. All the latest developments are announced in our weekly newsletter as well as new variations to existing patterns. For example, in the spring we launched The Hooded Overshirt designed as a beach cover-up, now for autumn we have added a shirt collar to the pattern as this style also works in heavier wovens including wools where a collar is more suitable than a hood. 
Thank you Frances for taking the time to answer our questions. 
The Maker's Atelier magazine is a quarterly magazine exploring seasonal trends, sewing techniques and interviews, and each issue includes a simple and versatile pattern. For more information or to browse the patterns visit themakersatelier.com or follow on Instagram @themakersatelier.
------------------------------------------------
Frances recently used some of our coated cotton to create an incredible Long-line Cagoule. You can read about her pattern adaptation over on
The Maker's Atelier Journal.